Pentágono Estudio fue contactado para la creación de un anfiteatro móvil para el Centro Avemed en Saltillo, Coahuila. Los requerimientos señalaban la necesidad de una estructura que pudiera ser erigida y desmontada en cuestión de horas proveyendo un amplio espacio para conferencias y clases en un ambiente altamente simbólico. En línea con la misión y valores del Centro, tenía que adherirse a lineamientos de sustentabilidad sin sacrificar valor estético ni calidad en su construcción.
Para cubrir dichos requerimientos, se decidió el uso de una estructura bien estudiada para que formara la base del teatro; un domo geodésico. Inspirados por las estructuras de Shigeru Ban, se recurrió al uso de tubos de cartón como material principal para la construcción en conjunto con uniones de acero al carbón con pintura electrostática de alta resistencia.
Una lona impresa digitalmente se diseñó para cubrir la estructura. El gráfico se diseñó inspirado en mandalas y geometría sagrada. Dado que el anfiteatro sería utilizado principalmente para clases de yoga, se eligió un material con un grado de traslucidez tal que permitiera apreciar el gráfico tanto por dentro como por fuera. El pentágono en la punta superior  presenta una estrella inscrita cuyas líneas se extiendenhacia afuera en todas direcciones, entrecruzándose para generar un patrón geométrico con rellenos en gris, blanco, gris y verde. Los símbolos más comunes encontrados en esta cubierta son el pentágono, que representa el cuerpo humano, el triángulo, que representa vitalidad y transformación, y la estrella, que representa espiritualidad, libertad y liberación.
English:
Pentágono Estudio was contacted to create a mobile amphitheater for the Avemed Center in the city of Saltillo, in northern Mexico. The brief called for the creation of a structure that could be erected and dismounted in a matter of hours while providing ample space for lectures and classes in a highly symbolic environment. In line with the Center's mission statement and values, it had to adhere to sustainability guidelines while maintaining a high aesthetic value with excellent construction quality.
To address these requirements, we decided to use a well-studied structure to form the basis of the theater; a geodesic dome. Inspired by Shigeru Ban's structures, we decided to incorporate cardboard tubing as the main material for the construction, with powder-coated steel connections.
A printed tarp was designed to cover the structure. The graphic was designed inspired by mandalas and sacred geometry. Since the amphitheater would be mainly used for yoga lessons, it seemed fitting that the translucency of the material allowed the users to enjoy the graphic from the inside as well the outside. The pentagon at the top features an inscribed star from which lines extend outwards in all directions, crisscrossing to generate a geometric pattern filled with alternating white, gray and green. The most common symbols found on the tarp are the pentagon that symbolizes the human body, the triangle that represents vitality and transformation, and the star, which stands for spirituality, liberty and elevation.
Tubos con tapas de acero listos para ensamble.
Tubes with steel caps ready for assembly.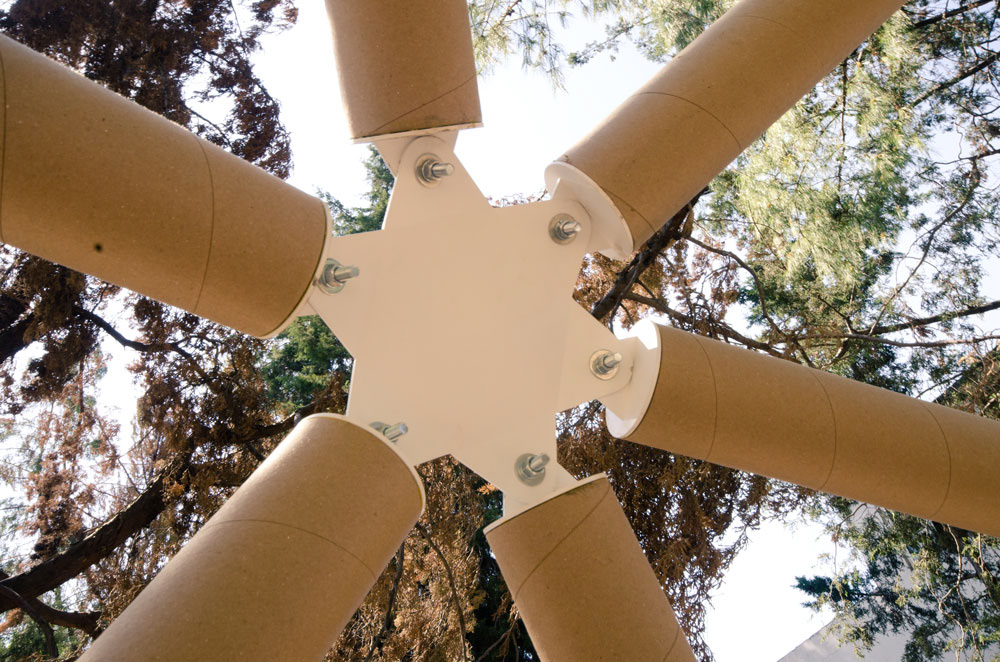 Detalle de nodo conector hexagonal.
Hexagonal connector detail.
Domo en uso para una clase de yoga. La traslucidez de la cubierta permite apreciar el patrón tanto por dentro como por fuera.
Dome in use for a yoga lesson. The tarp's translucency allows the pattern to show through to the interior.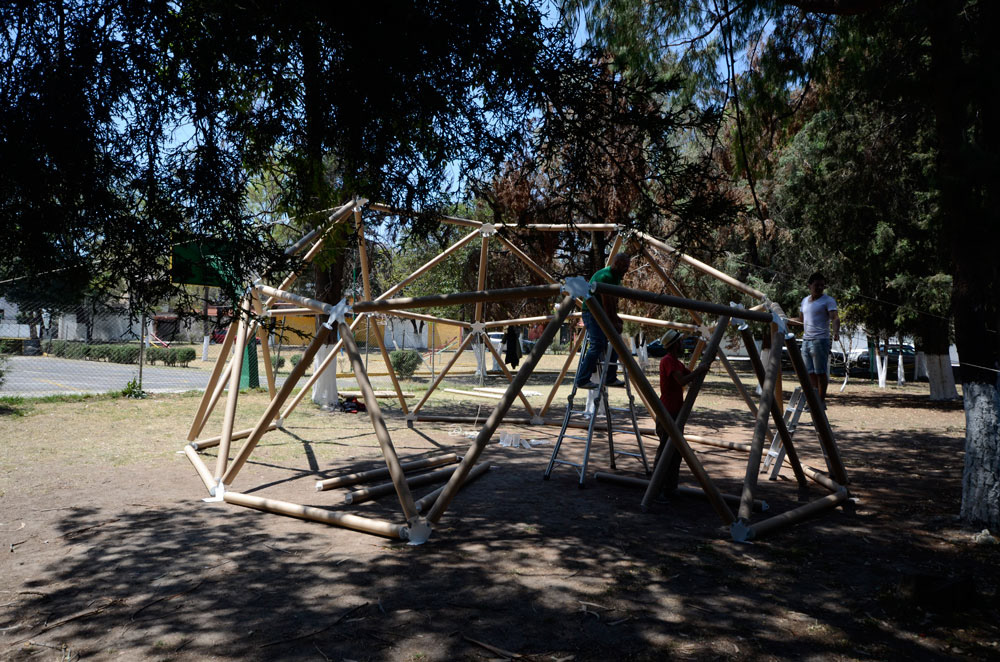 Domo durante el ensamble.
Dome during assembly.
Time-lapse del proceso de ensamble del domo.
Time lapse of the assembly process.